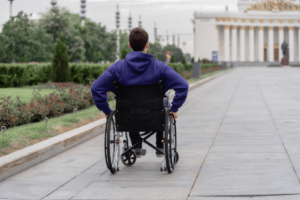 Spinal cord injuries can result from falls, automobile accidents, head injuries, certain types of infections and more. Depending on the specific circumstances, the severity of spinal cord injuries can vary; but in any case, rehabilitation is likely to be required. In this article, we'll summarize what the spinal cord injury recovery process might entail and explain how a life care plan can help to ensure that a patient gets the support they need to make an optimal recovery. 
At Cardinal LifeCare Consulting, we partner with attorneys working on either side of a case involving allegations that another party's negligence contributed to a claimant's injuries. Through objective, evidence-based life care planning and medical expert witness services, our licensed legal nurse consultants help lawyers build and strengthen cases. To learn more about how our network can contribute key clinical knowledge and expertise throughout the litigation process, reach out to us at 724-487-0519.
Spinal Cord Injury Recovery Process
Navigating a spinal cord injury will be a different experience for each patient depending on the severity, what parts of their body are affected, the symptoms they face and other individual factors. However, there are some general things that are often part of the spinal cord injury recovery process. 
Steps to rehabilitation may include:
Staying at the hospital until a stable condition is reached after the injury, which might involve surgery and will vary in length depending on the specifics of the case;

Treating and managing any secondary conditions (pressure ulcers, muscle spasms, etc.) which may arise;

Undergoing physical or occupational therapy;

Seeing a mental health professional for counseling;

Attending regular checkup appointments;

Adapting to a loss of bodily function, which may be temporary or permanent; and

Adjusting to using mobility devices, adaptive tools and/or home modifications.
For different types of spinal cord injury, certain recovery steps may or may not be applicable. A patient-specific life care plan will outline the particular patient's needs over time, along with the corresponding costs. This document can be instrumental in substantiating the patient's long-term care requirements and the demand amount to give them the best possible quality of life.
Along with establishing the effects of an injury and the costs associated with the type/level of care necessitated as a result, it's also crucial to demonstrate how negligence was a factor in a certain case by pointing to clear evidence. A medical expert witness can review the case at hand and deliver their informed, impartial testimony on whether negligence such as a breach of standard of care contributed to the claimant's injuries.
Law Firms Across the US Consult Cardinal LifeCare
In a case involving a claimant facing any sort of catastrophic injury that may have been the result of another party's negligence, life care planning and expert witness services can help to provide clarity and to support or disprove the claim. At Cardinal LifeCare, we've earned a reputation for our unwavering professionalism, objectivity and expertise.
Our life care plans are comprehensive, evidence based and defendable, and our expert witness services help to bridge the gap between the legal and medical worlds. To connect with our consultants and learn more about how we may be able to assist with a case you are working on, call us at 724-487-0519.